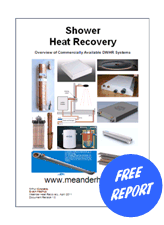 Arthur has completed an overview of products, test results and contact information in this easy to read report. He has also taken the time to explain the basics of drain water heat recovery, including different mounting options.
You will get immediate access to the Shower Heat Recovery report by signing up to our Meander DWHR newsletter. Our vision is that every home should have some sort of heat exchanger connected to the grey water of the shower. We hope the report will help you find the best unit for your home.
Here is a list of the heat exchanger companies that are reviewed in the current revision of the Shower Heat Recovery report:
HEI-TECH B.V., THE NETHERLANDS
BRIES ENERGIETECHNIEK / DUTCH SOLAR SYSTEMS, THE NETHERLANDS
ECOTEB AS, NORWAY
OSO HOTWATER AS, NORWAY
SUP TECHNOLOGY – SAKAL, CZECH REPUBLIC
RENEWABILITY ENERGY INC, CANADA
WATERCYCLES ENERGY RECOVERY INC., CANADA
ECOINNOVATION TECHNOLOGIES INC., CANADA
WATERFILM ENERGY INC., USA
We welcome information about other companies that are not yet included.