Arthur Kimmels has always had a great interest for alternative energy sources. Already as a child he was experimenting with solar energy. Later, in his adult life, he realized that there should be a way to recover some of the heat lost when taking a shower. He started by looking at some of the drain water heat recovery (DWHR) units available in the Netherlands. The products he found on the market in 2009 did not fit his shower cabinet. Arthur then decided he would build his own DWHR. Looking at the different formulas for heat transfer he wanted to maximize the recoverable energy with a true counter flow and high speed water concept. He didn't know at the time, but what he created was the heat transfer design that would give birth to Meander Heat Recovery.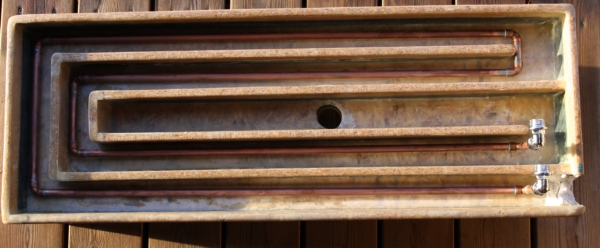 The initial design had the drain channel made out of wood, covered with fiberglass to make it waterproof. Inside this channel was a copper pipe. The gray water from the shower heated the copper pipe, which again heated the cold water inside the pipe on its way to the shower mixer. Measurements showed that this simple design worked really well. The heat recovered when showering was about 4000W. Arthur knew this would be of interest to more people than just himself.
Svein Medhus has always been working on saving energy. For several years he has been blogging about projects he has carried out to make his family house more energy efficient. With his blog, he was hoping to multiply the overall savings by inspiring others to start similar projects ., One morning there was a very inspiring E-mail from blog reader Arthur. It made up the blog post DIY-heat-exchanger-for-your-shower and quickly became one of the most popular posts. Svein is an electronics engineer, and has been part of many development projects that also included developing plastic enclosures. Looking at Arthur's design he realized that it could be industrialized into a small, low cost heat exchanger for shower cabinets. Svein aired his ideas with development partners at 360 grader produktdesign and they also got excited about the product potential.
Then Svein visited Arthur. It turned out that the two of them live only 5 km (3 miles) apart in Norway. At the very first meeting they started to talk about moving Arthur's idea into a product. After many hours of technical discussions, channel building, staring at 3D drawings, pipe bending, soldering, calculations, and testing, Arthur and Svein were pleased with the results and in 2010 decided to found their own company: Meander Heat Recovery.